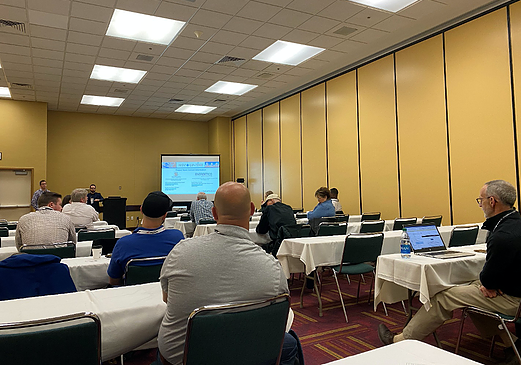 Clean Fuels Ohio attended the 2020 NTEA Work Truck Show in Indianapolis from March 3 – 6 and took part in all the action-packed activities taking place at this year's conference. From the Cummins Class 6 Electric Truck Lunch & Learn to the Clean Cities Guided Expo Tour, there was much to participate in and learn about regarding the work truck industry.
On Thursday March 6th, Clean Fuels Ohio and Energetics hosted project launch information sessions at the Indiana Convention Center for the NGV UP-TIME project (Natural Gas Vehicle Updated Performance Tracking Integrating Maintenance Expenses) and EV WATTS project (Electric Vehicle Widescale Analysis for Tomorrow's Transportation Solutions). Both projects are in partnership with Energetics and are being funded the U.S. Department of Energy to collect data, improve research, and support deployment of natural gas vehicles and electric vehicles, respectively.
Andrew Conley (Clean Fuels Ohio) and Russ Owens (Energetics) presented an overview on the NGV UP-TIME project. This project explores the benefits of sharing natural gas vehicle (NGV) and diesel vehicle maintenance and operational costs data in the medium and heavy-duty freight and goods movement sector in order to inform analysis and future research of NGVs. Immediately after, Margaret Smith (Energetics) and Andrew Conley presented on the EV WATTS project that highlights the benefits of sharing plug-in electric vehicle (PEV) and electric vehicle charging infrastructure (EVSE) data. Both sessions were successful and gathered interest from a variety of stakeholders in the NGV and EV industries from infrastructure providers, fleets, and technology integration providers.
If you are interested in either of these projects, please visit ngv-uptime.org and evwatts.org to learn more or contact Tim Cho, Projects Manager at [email protected].