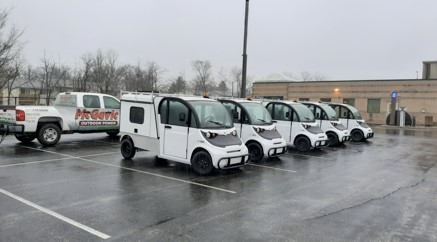 As students begin to return to Indiana University's Bloomington campus for the start of the Fall semester, they might notice something different about the vehicles being driven by IU's Facility Operations staff.
Earlier in the year, IU Fleet Services acquired five GEM eL XD vehicles from McGavic Outdoor Power. The five all-electric low-speed vehicles (LSVs) are used by the Facility Operations staff to carry out duties related to building maintenance, electrical work, and transporting items needs to keep buildings operational.
Amanda Wilson, Director of IU Fleet Services, made the decision to purchase the Electric LSVs after receiving a request from Facility Operations to replace their off-road vehicles with more environmentally-friendly options. Having previously purchased a GEM vehicle from McGavic Outdoor Power in 2018, Wilson worked with the company to review IU's fleet. With the help of Brian McGavic, President of McGavic Outdoor Power, IU Fleet Services identified target vehicles for electrification and developed a plan to electrify more of IU's fleet in the future.
Since delivering the vehicles, McGavic has already received positive reviews about the GEM eL XD vehicles from the Facilities Operations staff. "The most common feedback that we receive about the GEM LSV vehicle is the convenience. These vehicles have the flexibility and safety to be driven on the road, but can easily hop the curb and travel on the sidewalk around a campus," says McGavic.
The flexibility of the GEM eL XD vehicles allows them to avoid a problem IU students, faculty, and staff are familiar with: Parking. "This vehicle shines anywhere that parking is a challenge," says McGavic. The LSVs eliminate the difficulty of "having to find a parking place at the job site or building where the work needs to be done," adds McGavic.
While charging infrastructure is an important consideration for any fleet looking to switch to EVs, charging has not emerged as a significant challenge for the LSVs, which can be charged at any standard 110 V outlet. According to Wilson, IU's Facility Operations team has installed additional outlets on the building adjacent to the area where off-road utility vehicles are parked, allowing the LSVs to be charged overnight.
In addition to the convenience and flexibility of the new vehicles, the switch to the all-electric LSVs will lead to a reduction in greenhouse gas emissions as well as financial savings from reduced maintenance costs, fuel costs, and improved fuel economy.
The new GEM eL XD vehicles mark a step towards electrifying IU's fleet, which is made up of 13% all-electric and hybrid vehicles as of 2020. There is a growing interest on campus to electrify IU's fleet, as more departments have expressed an interest in testing LSV's and hybrid vehicles. "As funding and vehicle options allow, we do plan to acquire more alternative fuel vehicles," adds Wilson.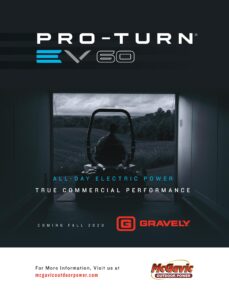 Echoing this sentiment, McGavic believes that more university campuses in Indiana should consider switching to electric LSVs because "LSVs are a safer and more efficient way to move around campus while lowering a carbon footprint and reducing the cost of ownership." He notes that customers have been very receptive to alternative fuel lawn and garden equipment and "communities and government agencies are helping to really encourage the adoption."
Customers can play a major role in encouraging their landscaping companies to convert their equipment to electricity and other alternative fuels. In particular, "corporate companies & HOA's can start to write specifications into their contracts requiring clean energy solutions," says McGavic.
McGavic is excited by the developments he sees in the landscaping equipment industry, including the first battery-electric lawn mower that will be released in the spring of 2021. McGavic Outdoor Power is working closely with Gravely, the manufacturer, and Mainscape, a landscaping service provider, to pilot the electric lawnmower on Eli-Lilly's Indianapolis campus.
McGavic is optimistic about the trends in the landscape equipment industry that favors alternative fuels such as propane and electricity and hopeful that the "range and quality of vehicles keep getting better." He is "excited to see many of the universities and corporate campuses around Indiana embrace and lead with innovative clean equipment solutions."
* McGavic Outdoor Power is a member of Greater Indiana and supports Greater Indiana's mission to promote education and the deployment of alternative fuels.
* Indiana University is a partner with Greater Indiana, working together to advance alternative fuel education through internship placements.
---
McGavic Outdoor Power has been a leader in the lawn and garden equipment industry, and has been serving Central Indiana since 1978. McGavic Outdoor Power has store locations in Noblesville, Marion, and Kokomo, and is dedicated to continuing their tradition by "serving those who work and shape the land."
Greater Indiana is a Clean City Coalition focused on advancing communities with education and resources on alternative fuel vehicles. The standalone nonprofit 501(c)3 organization serves 76 counties, working with public and private sector members. Greater Indiana is a resource for members integrating alternative fuels, technologies, and efficiency measures. Greater Indiana hosts educational and networking events fostering opportunities for partnerships between fleets and industry providers. By facilitating these partnerships and projects, Greater Indiana is fostering the economic, environmental, and energy security of the United States.
Written by Sean Chung, Intern at Greater Indiana Clean Cities.