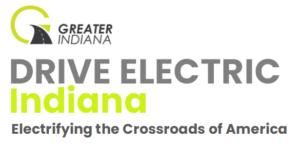 Early 2021, Greater Indiana Clean Cities, Inc. launched their new Drive Electric Indiana Program, a statewide project led by Greater Indiana, an independent non-profit advancing alternative, domestic fueled transportation, and energy efficient technologies across all sectors in Indiana. The program brings together partners from across the state to align their efforts in the goal of preparing our infrastructure, cities, schools, and businesses for the electrification of transportation in Indiana.
One of the program's many goals and objectives is to work with municipalities on fleet analysis and help them transition to alternative fuel vehicles. The Greater Indiana Law Enforcement Hybridization/Electrification Project is one of the efforts under the program. The project now represents over 40 central and northern Indiana police departments and law enforcement activities in rural Indiana, supporting new fleets and replacing aged equipment in existing fleets.
These departments have teamed up with Greater Indiana and the Drive Electric Indiana program to evaluate electric and hybrid police vehicles to reduce fuel and maintenance costs, enhance uptime, and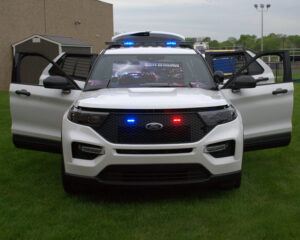 decrease tailpipe emissions.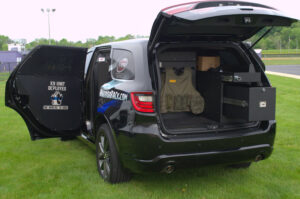 "As both a Deputy Marshal of Orestes and a School Resource Officer at Muncie Community Schools, I have the privilege to be a valued part of some decision-making processes at these departments. Since I am the grant writer for these agencies, I am in a unique position where I can help reach our departmental goals of helping our communities. One way in which we can do that is by pursuing more electrification in our departments. Muncie has been trying to "go green" in multiple areas for years, and Orestes has started to show interest. When I mentioned there may be an opportunity to get hybrid or electric vehicles, both departments jumped at the opportunity and decided to fully back my project." -David Vest, Deputy Marshal of Orestes and School Resource Officer at Muncie Community Schools.
The team organized a Ride and Drive Education event for the participating departments and a dozen other departments interested in learning more about electric and hybrid police vehicles. Departments from different counties from all over Indiana came to the event. The event included traditional Law Enforcement Officer product vendors, static vehicle exhibits from Ford and Tesla, and some drivable demo vehicles from Ford and Tesla.
Vendors
EVunited, Greater Indiana's Champion member, was among the vendors during the event. EVunited provides site assessments and skilled EV charging station installation for healthcare, retail, manufacturing, insurance, automotive, financial, higher education, parking solutions, and other industry verticals.
Other vendors included: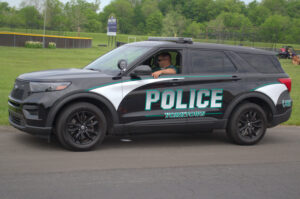 Tactical Medical Solutions – brought a demonstration of their medical gear, kits, and bags during the event.
SRO Academy
Axon – provided a demonstration of their TASERs, Bodycams, and schwag.
Warrior Rack & Versatile Metal Works
TESLA – brought their Model Y to ride and drive
Nelson & Co. – contributed to the event by showing their equipment and uniforms.
Yorktown – brought their Ford Explorer to ride and drive
Control Tactics – brought a defensive tactics trainer
Ford – provided their Mustang Mach-E to ride and drive
GM/Chevy – GM Bolt EUV SSV Ride Along
City of Carmel Police Department – provided hybrid patrol vehicle display
Passive Security Solutions
Police Social Media Academy
Bargersville – provided their TESLA Model 3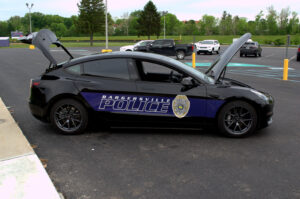 The Bargersville Police Department unveiled its first all-electric patrol vehicle in August 2019, making it one of the first police forces in the United States to use the Tesla Model 3 as a squad car. Since then, the department has added three more Tesla Model 3 vehicles to its fleet.
The department found that in the first year of service, the Tesla Model 3 patrol vehicle saved the department $6,320 in fuel and maintenance costs.
Over the course of the six-year span the department typically has a vehicle, each Tesla will save the department approximately $38,000. After recovering the $14,500 from the increased purchase price, the department will net approximately $23,500 for each Tesla in the fleet. With the four Tesla Model 3's currently in the department, the Bargersville Police Department is on track to save approximately $152,000 over the next six years.
Find out more about the savings and emissions reductions the Bargersville Police Department saw with the introduction of the electric vehicles into their patrol fleet in the case study In Pursuit of Savings: How an Indiana Town is shifting to electric cars to save money.
Benefits of EVs and HEVS: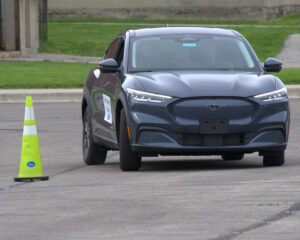 All electric, Hybrid and plug-in electric vehicles can help improve fuel economy, lower fuel costs, and reduce emissions.
All-electric vehicles emit no direct emissions, significantly lowering a driver's environmental impact. In addition, Electric vehicles require fewer maintenance procedures because there are fewer moving parts and fewer fluids to change. Batteries, motors, and other electronics used by electric vehicles and hybrid electric vehicles require little regular maintenance.
Electric vehicles and hybrid electric vehicles can reduce fuel costs dramatically because of the high efficiency of electric-drive components.
Visit greaterindiana.com for more information about electric vehicle benefits, maintenance, and analysis.
About Greater Indiana Clean Cities, Inc.
Greater Indiana Clean Cities, Inc. (Greater Indiana) is an independent, standalone nonprofit 501(c)3 organization serving the state of Indiana to support alternative fuels and alternative fuel vehicles (AFVs). Greater Indiana's mission is to advance alternative, domestic fueled transportation including energy efficient technologies across all sectors in Indiana. The organization is overseen by a Board of Directors representing biofuels, municipalities, utilities, transportation manufacturers, and fuel suppliers. For 22 years Greater Indiana has been assisting public and private sector members including: cities, schools, utilities, fueling companies, government agencies, universities, and other nonprofit organizations with their alternative fuel projects.
News Media Contact: Kaylee May, [email protected] (315)877-3830